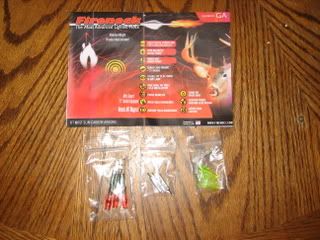 I recently received a package of the GA model Firenocks in the mail, for my Easton FMJ's (Full Metal Jacket) shafts. When I removed them from the package I immediately saw the quality design and engineering that went into these nocks: gold plated connectors, a very easy installable and replaceable battery, a circuit board with a bulletproof design, no magnet to turn the nocks on, no wiggling to turn the knocks off after the shot and replaceable nocks. The nocks came with 3 weighted nocks to practice with, which is a nice feature to be able to shoot the same weighted arrows without using up your battery on the Firenocks.
I found the instructions to be very clear, simple and strait forward, making my new Firenocks very easy to install. There are no tools required for installation besides the nock installation tool, which is supplied with the nocks. Just put a small amount of string wax around the nock and they will slide right in. One thing I really liked is that these nocks fit your shaft perfectly, unlike competitors that tell you to shim the inside of the shaft with a piece of the packaging. From the battery installation to the actual installation of the nock into the arrow shaft, it took me about a minute or less for each nock. One of the cool features that I learned about while installing the nocks is that you can actually remove the nock itself from the circuitry and install different colored nocks to create different colored light: red, green, blue and clear for white light can be installed.
Immediately after installing the nocks I went outside, to drill some targets. The first thing I did was shoot several groups at 20 yards with the Firenocks and the weighted nocks to check their tolerances. I found the Firenocks and weighted nocks that were supplied to have very tight tolerances and both grouped well side by side. I continued shooting and moved out to 40 yards, before it became too dark to see my sight pins. I found the Firenocks to be highly visible and worked every time upon releasing the bowstring. I also found the nocks to be extremely easy to turn off after I pulled them out of the target. To turn them off you simply raise the nock 6 inches above a hard surface and drop the arrow, nock end first, onto the hard surface and they shut off immediately. I also found out that these nocks are designed to not shut off in the first 4 to 8 seconds of operation, to protect them from the shock of a shot on big game animals, which is very important. I tested this function and was unsuccessful at trying to turn off the nocks just seconds after the shot.
Over the past week I have shot these nocks out to 50 yards in the middle of the day and they are highly visible even in the brightest sunlight. I have also shot them in the rain, just for fun and it was no surprise that they held up to the test and preformed just as well as if it were dry outside. I have shot these nocks several hundred times now, without one single flaw or mishap and when the batteries go dead, after 23 hours of operation, I can spend $10 and buy 3 replacement batteries.
At one time I had vowed not to shoot lighted nocks anymore because their quality was so poor and they only worked part of the time, if you were lucky. A lot of the times if you bought a package of 3 lighted nocks only 1 or maybe 2 of them would work properly. These Firenocks work all the time; every time and my hunting arrows will always have them. They are an asset when shooting in low light or any light to confirm your arrows impact, target shooting and can make the difference between a recovered animal and a lost animal.
Firenocks offers these nocks in virtually every carbon arrow shaft from standard, fat and slim-diameter as well as aluminum arrows that utilize the uni-bushing system website
http://www.firenock.com/
.
Thanks for putting my confidence back into an essential bowhunting tool, Firenocks.
Paul Watson
http://www.redashoutdoors.com
Prostaffer & Bowhunting Columnist