I just wanted to share with you all about a group in the Toledo Ohio area that puts on a turkey hunt for people with disabilities. In cooperation with the NWTF the Maumee Chapter of the Wheelin Sportsman does an amazing job. We had the absolute honor of being asked to come and be part of this event last weekend. They wanted Faith at Full Draw to come and be guides for these hunters and film the event. When they asked I instantly said we would be there. I didn't really know what to expect foing into the event, I mean I had a good idea but the impact it made on my entire team was amazing. It started with a banquet Friday night in which they asked us to say the blessing over which was pretty cool. We got to meet our hunters that night and then Sat morning we hit the woods. Most of the 14 hunters are whheel chair bond for various reasons and they never get a chance to enjoy the outdoors like they did this weekend.
Denny Sharrone and I had the pleasure of guiding a hunter by the name of Mike. Two years ago Mike was a 24yr old 6'3" 270lb muscle freak. Had a lot going for him, then one night a cop with an itchy trigger finger wrongfully shot him in the back 15ft away with a .40cal. Mike was instantly paralyzed from the waist down and had tons of internal problems due to the shooting. His life as he knew it was completely turned upside down. Having the opportunity to spend many hours in the ground blind with him was amzing to say the least. Seeing how he gets around now and lives day to day would blow some of your minds. Bottom line is...we went there to be a blessing to those people and they ended up being a blessing to us. If you didn't leave that weekend and at some point had to wipe a tear from your eye, then there is definitely something wrong with you.
Anyways, Sat was a bust as we didn't see a single turkey. Denny and I scouted a new area, saw some sign and just knew we had to get Mike in there for Sundays hunt. At 5:15am we were in and all set up. Shortly after day break we heard some gobbles and that went on till 9am but still saw nothing. About 9:30am we heard a nice gobble couple hundred yards in front of us. We finally saw him about 130yds out, as soon as he saw the decoys he literally walked right to us. The big ol tom came in text book style and when he approached the 15yd mark Mike said "I'm going to take him"...I said "no your not...lol". I knew that turkey was locked onto the decoy and I knew that I could capture some amazing footage. He circled the decoy a couple times pecking away at it's head. He nocked over the hen decoy and as he made his way around around I gave Mike the go ahead and he dropped him at 7yds. The back ground in which this wasall filmed was amazing as is the entire hunt its self. Was it difficult getting him through the fields, woods and water in a wheel chair, sure was...but I would do that and even more anyday to be able to experience something like this again. These people are truly something special in how they over come their disabilities.
Well, sorry for the long post but this is just to good of stuff to not share. On with the pictures....
Here is myself (driving) Larry and Seth and Wayne in the back seat. We were on our way there, Denny met us at the dinner.
Here we all are at the dinner.
Myself and our hunter, Mike.
The footage I got a this bird coming in is....well, is some of the best turkey on a decoy footage I have ever seen.
One of the other hunters watching our kill footage I down loaded to the MAC real quick.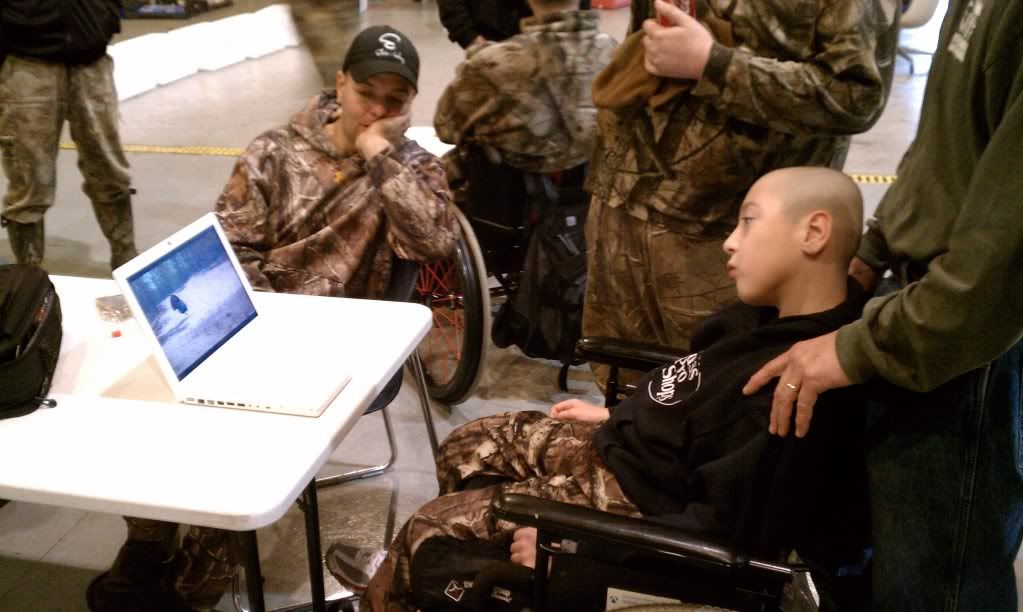 Denny, Mike and I.
The entire Faith at Full Draw team with Mike.