Whenever I get the hankering, I'm going to post up on different things, you may or may not know about. If you desire to do the same, go for it....more trivial the better. Enjoy....
--------------------------------------------------------------------------------------------------------------------------------------------
Today, we're going to learn about
Puff Adders
.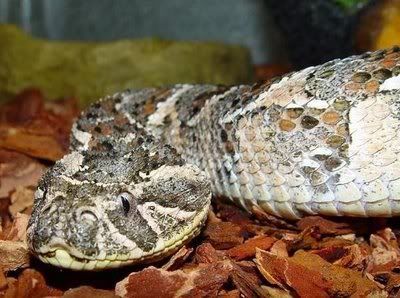 Known as
Bitis arietans
to those with pocket protectors, the puff adder is found throughout the continent of Africa, and is considered by some to be the most wide spread snake on the continent. It is found from the South African velds, the central grasslands, all the way to the tropical rainforests of the Ivory Coast, and on to the fringes of the Sahara Desert & most of the Arabian Penisula.
Due to it's wide distribution, very common occurence, and a extremely bad temper, puff adders are responsible for more snake fatalies than any other snake in Africa. And the snakes willingness to bite and habit of staying put when approached, doesn't help.
The average length is 30 to 36 inches, but have been found up to 70 inches and nearly 13 pounds in weight.
The color patterns vary from geographical region to the next, and it's camoflage is about perfect.
Normally a sluggish creature, being cold blooded and needing to warm itself, it frequents paths and walkways, were unobservant women and children step on it. Their lighter weight, makes it harder for the snake to sense footfall vibration, then it's too late.
The puff adder moves primarily through rectilinear movement, but can resort to typical serpentine movement when agitated or frightened. Given it's size and weight, it is still a good climber and swimmer, found sometimes sunning, in low hanging trees.
[ame]http://www.youtube.com/watch?v=OSaHdeKeR7k[/ame]
The name comes from the constant hissing sound the snake emits, when coiled. The snake brings a third of it's body into a very tight "S" coil, to which it's springs it self out with surprising speed and power. It's fangs are able to penetrate soft boot leather.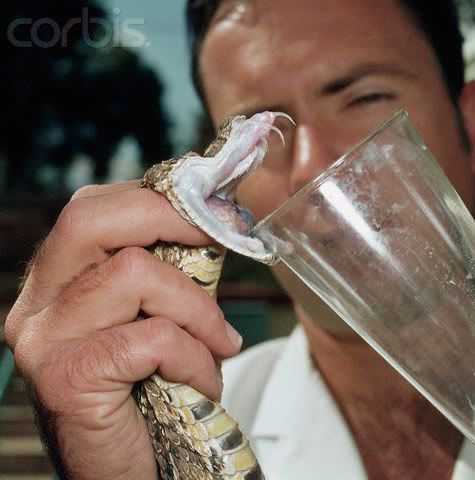 It's venom, if not quickly counteracted and treated carefully can cause necrosis. Which is a nasty condition where tissue and muscle separates from healthy tisse, causing terrible infections and possible gangrene. Horrible scarring and possible limb loss is common.
The puff adder gives birth to 40-80 offspring, with one kept in a Czech zoo, once giving birth to 156 young. The most of any snake ever recorded.
Throughly, an amazing snake.....