For those who may have missed it, you may miss it forever. This new for 2009 designed fixed broadhead is about to be shelved. For being so radical shooters have been reluctant to give it a try. Well, NAP tested this hunting blade to no end. Their tests show bone crunching results. I wanted to try them and got some.
Hey, now I've felt some some sharp broadheads before, but these wanted to sink into my fingers by just picking them up. After I shot the one through the plywood it was still sharp! As you can see those .030" blades are tough. You'll have to excuse the three 1/4" thick, dirty, wet plywood, but that's all I had near my target butt. I had to take the plywood down to get a pic. As you can see I had the plywood loosely spaced by 2X4s. The arrow stopped after going about 5 inches deep in the Pacific bales. The arrow weighed 375 grs and took off at 270 fps.
3/4" of plywood. That quartering, frontal shoulder shot should be a real possibility. What also impressed me was the arrow hitting dead on, no stupid flight stuff. You'd thought I was shooting a field point.
If you like, call NAP at 1-800-323-1279 while supplies last. If enough calls maybe NAP will keep the Braxe.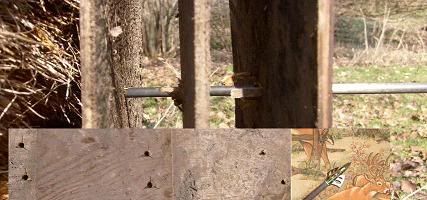 Now, I can be a bit questioning of myself and tried the 3 sheets of 1/4" plywood after some 20 shots. Yes, the Braxe was dull by then, but no broken or chipped edges. The pic shows the results.
Note the cuts in the plywood and Rinehart insert, sort of core drills.